Helps Hundreds of families in Akron-Canton Area
Today marked the last day in a two-week food drive sponsored by Millennium Capital and Recovery Corporation® and their employees. Together, the employees donated 1,943 items plus $455.00 in cash to the Akron-Canton Regional Foodbank.
Millennium employee's Pharrah Jacobs and Tabitha Tackovich organized the drive this year, and this is the third consecutive year that Millennium has participated. "The food drive this year was a tremendous success," Jacobs said. "I'm truly proud of our efforts here. We will surely make a huge difference for a lot of local families."
Jacobs and Tackovich led Millennium's sponsorship of the food drive with creativity and took advantage of a fun-spirited competition, too.  They grouped the company's 100 employees into six teams who have been competing over the past two weeks to bring in the most donations on a daily basis and in total. The competition yielded great results for the foodbank. In addition, several of Millennium's local business partners contributed to the cause both monetarily and with food donations as well.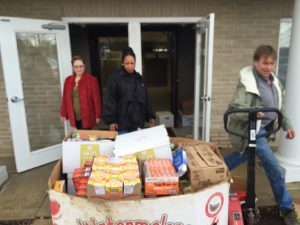 The teams were further encouraged to give generously with an incentive by Millennium owners Jayne
and Bob Bronchetti to benefit the winning team and the foodbank.
This was the best year ever for Millennium with nearly 2,000 items donated to the Akron-Canton Regional Food Bank. Since Millennium's first food drive in 2012, the company and their employees have donated over 6,000 items and $800 in cash to the Akron-Canton Regional Foodbank.
About Millennium Capital and Recovery Corporation®
Millennium Capital and Recovery Corporation was founded in 1999 and is a leader in the recovery management industry serving consumer lenders on a national basis. The company provides a full-range of recovery services that include nationwide recovery management, skip tracing, impound negotiation, transportation, and industry-leading proprietary ComplianceFIRST SolutionsTM program. Millennium is a certified Women's Business Enterprise (WBE) and has achieved the Service Organization Controls (SOC 2) Type 2 Internal Audit certification for five consecutive years. Headquartered in Hudson, Ohio, a suburb of Cleveland, Millennium is a privately-held company. For more information, visit NationwideRecoveryManagers.com or call 877.500.6272.