SubPrime Auto Finance News named Millennium Capital and Recovery Corporation to its 2016 SUBPRIME 125 – its annual list of industry heavy-hitters. The complete 2016 SUBPRIME 125 list can be viewed here.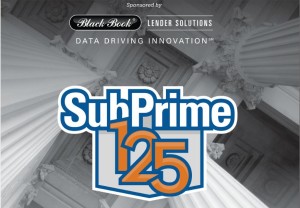 About Millennium Capital and Recovery Corporation®
Millennium Capital and Recovery Corporation was founded in 1999 and is a leader in the recovery management industry serving consumer lenders on a national basis. The company provides a full-range of recovery services that include nationwide recovery management, skip tracing, impound negotiation, transportation, and industry-leading proprietary ComplianceFIRST SolutionsTM program. Millennium is a certified Women's Business Enterprise (WBE) and has achieved the Service Organization Controls (SOC 2) Type 2 Internal Audit certification for five consecutive years. Headquartered in Hudson, Ohio, a suburb of Cleveland, Millennium is a privately-held company. For more information, visit NationwideRecoveryManagers.com or call 877.500.6272.